39′ HARRIS SPORTFISH
You will notice the Hot Ticket difference right away when you give us a call and speak with Kristie who is not only very friendly but also has a superior knowledge of fishing as she herself is a tournament winning angler and a USCG Captain.  She will help you choose between the type of trips offered, what you can expect different times of the year, and make sure that you book the charter that will be the most exciting and fun for your party.
About the Boat and Crew
The Hot Ticket is USCG certified and can carry up to six passengers (Six is the maximum by the US Coast Guard)

All trips are run by a licensed USCG Captain putting your safety first.

Experienced Captain and Mate both with over 20 years experience on local waters.

Powered by new CAT C7 Turbo Charged Diesel engine.

3 Fighting Chairs-You will need them!

Top of the line Fishing Gear and Tackle.

State of art electronics help us find the fish fast.

Upper and Lower Helm stations for catching the big ones.
Courteous and Professional Crew!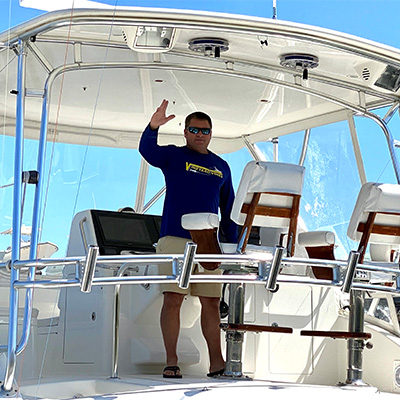 I have lived in this area since I was 3 years old. As a boy I was introduced to the water at an early age which quickly turned into a passion for fishing and being on the ocean. At the age of 21 I began charter fishing as a mate and soon became a Captain. Now 47 years old and a tournament winning Captain, I enjoy sharing my knowledge and experience with everyone that I get to fish with. It is my goal to make sure that your group has a great time on the water and we catch fish. Whether it is a tournament or just a fun family outing I will work diligently to find fish and use every resource I have to be in the right place at the right time. I am a true people person and I look forward to meeting you and spending a day on the water.
I am 50 years old, born and raised in Carolina Beach. I am currently a Captain with the Wilmington Fire Department ( 26 years) and soon to be fully retired within the next few years. I have been a licensed Charter Boat Captain since 2006. Growing up at the beach, I have had the experience of living on the water especially the ocean. I have a very experienced background for fishing and diving the local waters off the Carolina Coast. With my background I know the local waters like the back of hand and know how to target the species of fish that customers are wanting to catch. I truly feel the ocean is in my blood and is part of my everyday life. I have caught a very wide variety of fish and again growing up here locally has very much enhanced that ability for me. As I mentioned I am a very experienced diver also. Spear fishing is one of my greatest hobbies along with finding the prehistoric Megladon Sharks Teeth that our local waters also shares with us. This is also an advantage because I know the bottom of the ocean floor and what it looks like in terms of targeting fish. For my customers, I want you to know your safety is priority while underway on the Hot Ticket. Your experience on the water is very important to us. We want you to have the best experience possible while aboard and enjoy the wonderful Ocean that mother nature has given us. Your charter will allow us to share our experiences with you that we see daily, that is truly wonderful and amazing in our eyes. Hope to see you soon on the Hot Ticket!
I am an avid fisherman and have 30 plus years of fishing our coastal waters. I have captained charter boats and fished many tournaments for big game fish. I take pride in providing our charter customers with excellent service and a great and fun time!